High Pressure Solutions Cleaning Detergents & Sanitizers
COVID‑19 is a global health challenge and has placed our country under significant stress. We are on a mission to help combat the spread and flatten the curve in hopes of saving lives, relieving our overworked medical staff, and mitigating overall damage to the world economy.
Cleaning and sanitizing has never been as important as it is today. Let's bring this disaster to end as quickly as possible.
Please take comfort in the expertise of our company, we're here for you and will be in the days and weeks ahead.
High Pressure Solutions utilizes their 65 years of experience to bring the best cleaning detergents and sanitizers to the industry. We carry a full line of detergents, each custom formulated to conquer your unique cleaning challenges. We have the correct detergents suitable for all of our hot water pressure washers and automatic parts washers.
In short, High Pressure Solutions has the right detergents for the right jobs. No one detergent will suffice for all cleaning concerns. Each job is unique and the correct formulations and combinations are needed to perform the job correctly.
All of our detergents are highly concentrated and formulated for industrial use.

VELOSAN
Quaternary Disinfectant Cleaner for Hard Surfaces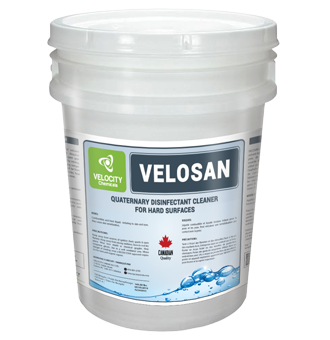 VELOSAN is a quaternary ammonium compound that can be used to disinfect and clean hard surfaces. A DIN registered one-step sanitizer for food contact and non-contact surfaces, it is less corrosive than bleach and is classed by Health Canada as likely effective against the COVID19 virus.


Multi-metal Parts Washer Detergent
Our product is a powdered recirculating spray washer detergent that is safe for use on all metals. It is a powerful product that makes it easy to obtain excellent performance from your parts washer. We also offer products including test kits, rust inhibiting additives and foam regulators.
Removes oils, greases, carbon deposits, paint, rust and organic deposits from parts cleaned in recirculating spray washers.
Contact High Pressure Solutoins today for more information.
Benefits
concentrated product – effective at low dilution
very low foaming
safe on all surfaces
excellent rinsing, leaves no residual film
biodegradable
no fumes
user safe
approved by Canadian Food Inspection Agency (CFIA)
not TDG regulated