Aaladin Aqueous Parts Washers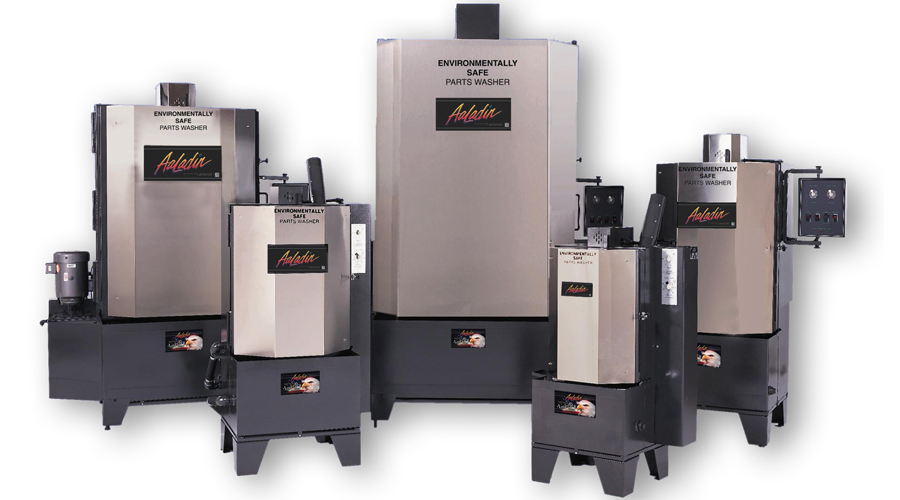 Aaladin Automatic Parts Washers
When choosing an automatic parts washer (APW), invest in a system that's proven to be the best. That's why we've chosen to distribute Aaladin's automatic parts washers. From the start, Aaladin's number one objective has been to design and perfect the best quality automatic parts washers available. Each unit is manufactured in North American, with impeccable craftsmanship and the highest quality control standards in the industry. The materials used are second to none, allowing the units to stand the test of time.
Aaladin's automatic parts washers are aqueous based, use no solvents, and are extremely safe for your employees and the environment. These machines pay for themselves by saving tremendous amounts of labour and cost.
Built for long life, these quality parts washers, made of 10 or 12 gauge steel, with dual-zone quick service filters, prove to be at the top of their class in performance.
There are five models to chose from in this series of Parts Washers, with gallon capacities ranging in size from 40 gallons to 260 gallons.The 2000 Series has motor horsepower starting at 3, and reaching up to 15, depending on the model chosen.
Proceco Integrated Cleaning Systems
Typhoon-HD/PC(E)
TURNTABLE WASHERS
Turntable washers also are known as cabinet spray washers feature a turntable which rotates workpieces through a pattern of strategically placed spray nozzles – fully enclosed in a washing cabinet.
 PROCECO offers a full line of low maintenance turntable wash systems for a variety of cleaning tasks in manufacturing, maintenance, and remanufacturing applications.
 With a multitude of options and extensive industry know-how, Proceco ISO 9001 certified engineering can configure your system for maximum performance and safety; fulfilling all your parts washing requirements.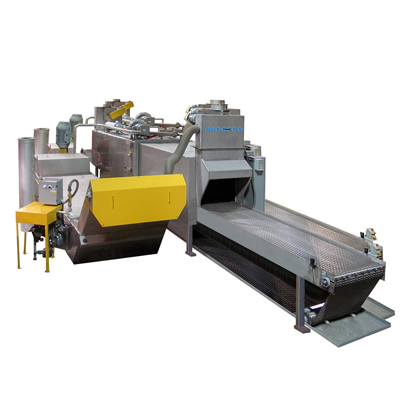 Typhoon-MB(H)(S)/OCW
CONVEYOR WASHERS
PROCECO belt conveyor parts washers are ideal for cleaning parts automatically in a continuous process.
 Delivering wide-ranging flexibility to spray clean parts, our modular design approach provides a cost-effective way to configure a belt conveyor washer to your specific process requirements; from single stage to complex multi-stage cleaning and drying processes.
 PROCECO can easily customize each parts washer we build by adding pre-engineereed options to enhance system performance and meet all of your cleaning specifications and requirements.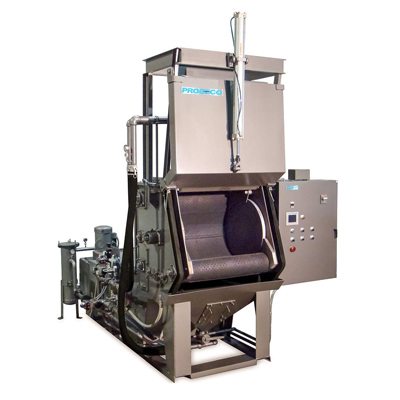 Spinner Hanger/Tumbler
SLURRY BLASTING
PROCECO's patented dust-free wet slurry blasting technology combines cleaning to remove grease, a wet blast to remove rust and paints, rinsing, and finally, the application of a rust inhibitor all in the same machine.
 A multitude of pre-engineered features allows PROCECO to tailor the wet slurry blasters to your needs.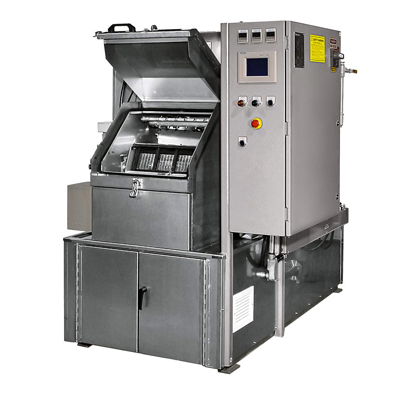 Typhoon-SI/TSI
SPRAY IMMERSION WASHERS
Spray Immersion washers are PROCECO's response to precision cleaning.
 Engineered to meet the tightest cleanliness requirement on the market, the SI combines the powerful action of spray washing to the immersion action, allowing the solution to reach all surfaces and remove trapped contaminants, even for parts with the most complex geometry.
 With a multitude of pre-engineered features and custom fixtures offered by PROCECO, the SI is a versatile unit to meet your process demands.
Please click on the product brochure to view our models.
before the Proceco Integrated Cleaning systems